Each and every day it's seems as if there's someone new reaching out to the world, claiming they know exactly what it takes to help a person establish their own brand. Whether they are a self-proclaimed consultant or marketing guru, they believe they have the knowledge and expertise to help one establish themselves or what they refer to as establishing their "personal brand."
Even with all the "gurus" out there today, personal branding is still a fairly new topic to most, and one that can be a bit tricky to define.
What exactly is personal branding?
Personal branding is the art of individuals marketing themselves and their careers as a brand. One could argue that it's basically doing enough over time until there is an arranged image or impression in the mind of others about an individual and what they have to offer.
It may sound simple, but the art of shaping your own brand and really getting people to believe in you can be quite a difficult task. It requires time, persistency, and much dedication if you truly want to be successful.
Take Taylor Swift for instance.
Yes, Taylor Swift or also commonly referred to by her fans as "T-Swift" – the one time naive, young country singer who has recently taken the pop world by storm.
Swift began her career in Nashville, TN where she planned to pursue a career in country music. As time would tell, her voice conquered the world of country singing. At the age of 20, she became the youngest person to ever win the "Album Of The Year" at the Academy of Country Music Awards after her album "Taylor Swift" became the 2nd best-selling country album in history.
The following year her 3rd album, "Speak Now," sold over 1 million copies in the first week. In that same year, her next album "Fearless", helped her win four Grammy Awards.
However, Swift wanted more – more money, more fame, and more recognition.
So how does one of the biggest stars in country music go from America's sweetheart to a pop sensation?
Well, this is where the art of shaping a personal brand comes into play.
Over the last two years or so, Swift cut ties with country music, transitioning to what some would consider as pop's newest cash cow.
She wanted a new image and knew she was going to have to move fast if she was going to make this work.
She didn't waste any time. First, Swift removed her selection from Spotify after she felt she wasn't being properly compensated. Then, Swift became very active across numerous social networks to establish herself more on the web. Finally, she moved to New York City, updated her style, began hanging with a more famous crowd, and even put her love life on hiatus.
After much hype surrounding her new image, Swift's first pop album (5th in total) 1989 was released and lived up to the hype after selling nearly 1.3 million albums in the first week.
It can be a difficult task, but once it's put into effect, successfully shaping your own personal brand can lead to countless benefits and become a life changing experience.
Here are 4 Ways to Shape Your Personal Brand Similar to the Ways of Now Pop Star – Taylor Swift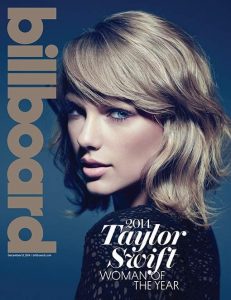 1. Making the Most of Social Media and Truly Engaging With Her Fans
In the process of shifting her image, Swift and the team behind her spent significant time developing an understanding of how her fans are using social media. She began communicating with her fans directly, including posting videos of what's going on behind the scenes and randomly awarding lucky fans through their comments on various social media sites.
The use of social media is nearly essential to one shaping their own personal brand because of its ability to between brand and individuals.
2. Allowing Fans to Create Their Own Content About Her
Not only did Swift begin connecting with fans on a personal level, but also she gave them the freedom of creating their own content about her. She encouraged fan creativity and hoped that this personal engagement would continue to spread awareness about her newfound image and latest music.
3. Image to the Public Eye
Once known for her signature goldilocks, Swift's first change included a haircut that led to a trendy bob. She "sexied-up" her wardrobe by beginning to showing more skin and wore more vibrant colors. She appeared at events that she normally wouldn't have (the 2014 Victoria Secret Fashion Show) and began hanging with some of Hollywood's eligible bachelors.
4. Focused on Maintaining Steady Revenue
As mentioned earlier about cutting ties with Spotify, Swift focused more on how people purchase her music, rather than what fans are doing with her brand and the content they create.
This gamble worked out great on her end. By separating brand value from product exclusivity, she was able to increase engagement, and still increase revenue.
Whether you agree with this move or not, it certainly worked in her favor. Taylor Swift grossed more than $64 million in 2014 and is gradually climbing her way up the list of wealthiest artists.
What are some ideas you think one should consider when changing trying to shape their personal brand?
Do you support the way Taylor Swift went about this process?
Author: Jake Platt was a content marketing intern with Primal Digital Marketing (now owned by Bbg, Inc.). Jake graduated from the University of Rhode Island where he studied Global Marketing and Business Management.