CPA Office Grows Business Nearly 30% In Six Months
Industry: Accounting & Financial Services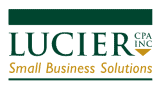 ABOUT LUCIER CPA
Lucier CPA has been serving the small business community in RI & MA for over 27 years, providing a comprehensive financial system including bookkeeping, payroll, tax services, and consulting.
Despite the long commitment to excellent client service, quality operations, and meaningful marketing investment, there was an unrealized opportunity at Lucier CPA to capture more of the local market. This was realized after implementing a new advertising strategy through the Google AdWords platform, which Lucier was already investing in at the time of our relationship beginning.
New Contracts Last Week (July 24-28, 2017)
Overall Business Growth In 6-Months
New Retainer Clients Gained
The accounting & financial services market is crowded with everyone from solo practitioners to large accounting firms with hundreds of staff to the new, innovative and tech-focused services.
Lucier saw an opportunity to capture more of the existing local market because of their comprehensive service offerings, but they needed to get in front of business owners. While they were already running a Google Adwords campaign, we saw opportunities to vastly change how the campaign was performing and the overall structure and strategy. This is where we focused our efforts.
What We Did
Bbg worked with Lucier CPA to identify relevant target markets for their services. We researched the market & competition to understand what was important in the consumer's mind and developed messaging and landing pages to correspond with this understanding. We then launched a new, comprehensive advertising campaign on Google AdWords, including retargeting across search and display.
Advertising on Google AdWords
The AdWords campaign Lucier was running is what we commonly see with many small business clients: a mashup of different keywords and categories and loose targeting criteria with no clear order or method to the madness. We took what we could learn from the campaign, but we would elect to create a fresh, new campaign from the ground up rather than try to salvage or reuse any other existing campaign. A systematic and orderly approach is important for ease of management, working efficiency, and campaign effectiveness.
Next, we conducted research on the target markets and competitors, both local and national. This taught us what areas have greatest demand, where there is opportunity in the market, and how to communicate effectively with the consumers; the small business owners of Rhode Island. This research provided us with education to facilitate design of a high quality campaign and landing pages, including seven campaign categories (focusing on separate areas, such as bookkeeping, payroll, taxes, etc).
After the initial six months, we are continuing to iterate and improve. Opportunities in reexamining location-specific advertisements, testing new keywords, and removing low-performing keywords are some of the methods we use in the ongoing improvement efforts. And, with such great performance so far, we have begun an expansion into the Southeastern Massachusetts market per the clients request, initiated by magical words denoting a successful campaign: "how can we spend more?".
Landing Page Design
With any advertising campaign on Google AdWords, we created several landing pages for Lucier CPA. Each landing page kept consistent branding and messaging, connotating professionalism, trust, and quality for local service for small business owners.
However, it is important to effectively match messaging with the 7+ campaigns we created for Lucier. So, we developed landing pages matching the different campaigns: payroll, bookkeeping, business consulting, taxes, etc.
Additionally, no advertising campaign is successful without proper tracking in place. So having the separate landing pages helped us to differentiate lead sources, but also to improve the quality of pages by testing over time.
The Results
Any time a client asks to spend more, particularly when they are financially savvy and concerned with return-on-investment, that's a great sign. In conjunction with Lucier's web presence, branding efforts, contact database, and a strong referral system, here are a few accomplishments gained in the short time thus far:
The client portfolio grew from 150 to 190 clients
Able to hire additional staff to handle growing clientele
Landed a $30,000 contract, among many other retainer clients
Gained 5 new clients in last week of July, while five clients in an entire summer is typical in this market
Overall, achieved a 27% growth in the book of business
Able to consider adjusting pricing to build a higher profit business
START GETTING MORE SMALL BUSINESS CLIENTS NOW
No obligation on either end to work together. Let's start with an exploratory to see where you are today and where you would like to go.
We can connect again immediately after, months later, or never again — whenever the time is right for you to make your next move.